As a true PHOTOBIOPROTECTOR, HELIOPURE® SKIN demonstrates the fucoxanthin bio-inspired properties to face photoaging
Exposure to the sun is the primary harmful factor of the exposome and the main contributor to premature skin aging. UVA, which represents 95% of the UV reaching the skin, and UVB cause deleterious consequences on the epidermis and dermis, leading to premature signs of aging such as wrinkles, solar lentigo, and sagging skin, known as photoaging.
PHAEODACTYLUM TRICORNUTUM, A NATURAL SOURCE OF FUCOXANTHIN
HelioPure® Skin is a concentrated form of fucoxanthin (carotenoid), obtained by the extraction of the microalgae Phaeodactylum tricornutum stabilized in organic jojoba oil (Simmondsia chinensis).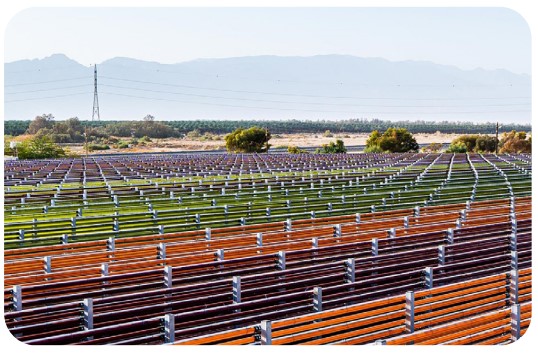 The microalgae are grown in the Arava Desert, an area with stable year-round climatic conditions, clean air and land free of industrial contaminants and pollutants. Using Algatech's exclusive biotechnology and unique know-how, the microalgae are grown in a patented eco-friendly closed system facility exposed to natural sunlight.
It is the largest photoreactor facility in the world with over 600 km of glass tubes, preventing exposure to chemical, physical or microbiological contamination.
BIO-INSPIRED PHOTOBIOPROTECTION
Fucoxanthin absorbs photons in a wide blue-green spectral range. It is also able to scavenge free radicals and reduce oxidative stress. At the skin level, fucoxanthin can help protect from UV-induced damage leading to skin aging.
"HelioPure® Skin protects the skin from photoaging, extrinsic aging caused by sun exposure"