AKOSKY MINDLIGHT demonstrates anti-aging effect by counteracting the effect of Cortisol and acting on fibroblast stiffness
Akosky Mindlight is obtained from Alfalfa sprouts, which are rich in phenolic compounds and triterpenoid saponins.
❖ Sprouts are one of the richest sources of SECONDARY METABOLITES from plant origin.
❖ Compared with their mature counterparts, sprouts are
usually richer in health-promoting phytochemicals.
❖ The antioxidant activity of seeds, thanks also to an increase of phenolic compounds was increased by germination.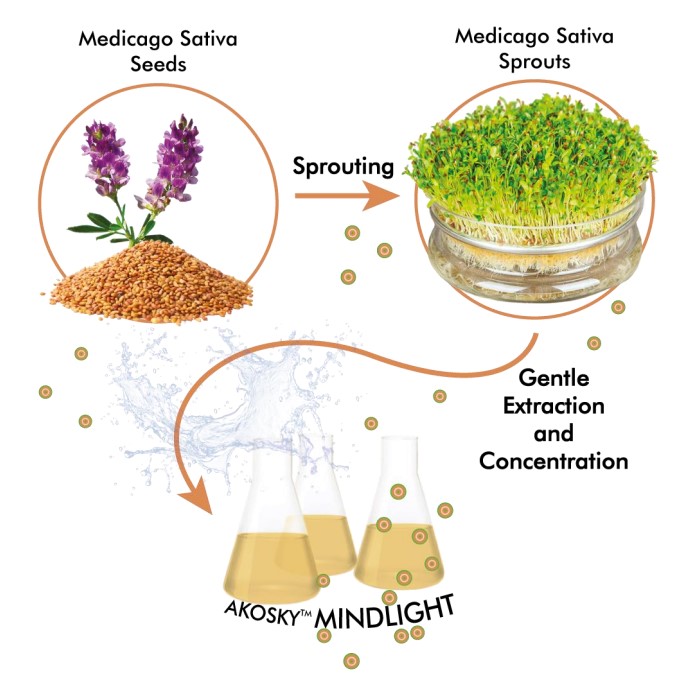 In vitro testing shows Inhibition of Cortisol Biosynthesis leading to a reduction of Fibroblast Stiffness
Clinical studies, on subjects who declare to be stressed, show visible wrinkles reduction in the glabellar, forehead, and nasolabial areas (expression wrinkles), improvement of skin elasticity, improvement of epidermis thickness (digital picture available), reduction of Trans Epidermal Water Loss (TEWL), reduction of skin redness and skin radiance improvement.
CLICK HERE if you would like to learn more about this product and download the presentation and studies on AKOSKY MINDLIGHT™.